XUNWEI News Center
XUNWEI has released a super-drive VGA matrix switchers

2008-02-22 Author: XUNWEI Source:xunwei.org
 February 14, 2008, the first batch of 200 units with a super-drive capability
VGA matrix switch
a smooth line, which has a number of new products is characterized by significant, high-definition VGA signal can be accessed through the regular VGA line extended to 150 meters above solution works because the signal through the VGA Cable VGA too far transmit the signal attenuation caused by the problem.
   XUNWEI released this super-drive capability with the VGA matrix switchers, when the first users of the mainframe computer VGA signal through a standard VGA high-quality product lines from INPUT primers, the products of the VGA output , of which N can be received on the local display, and 150 meters from a remote display device, by adjusting the product on the brightness and contrast on the display device can be remotely adjusted to the image sharpness and the local effects of the same . Through the adjustment, the remote display device image quality will be improved quality, you can maximize the tail off and the elimination of ghost phenomenon, but also a clear image of your screen.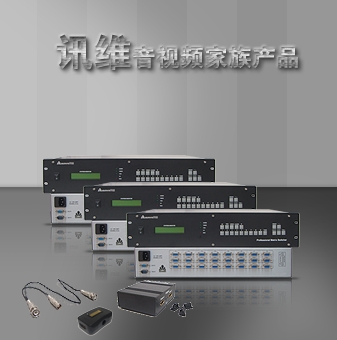 XUNWEI release second-generation GA matrix switch, new products
4
patents technology, 400M high-bandwidth signal transmission, to achieve automatic gain technology off the scene with a VGA matrix switchers protection devices can be automatically saved when the last shutdown of the state; some products allow for the HV signal and RGB signals switching delay, and delay time can be adjusted VGA matrix switchers the use of a new type of LED display and touch-panel button to ensure that the state show the more intuitive, more reasonable and easier to operate equipment.